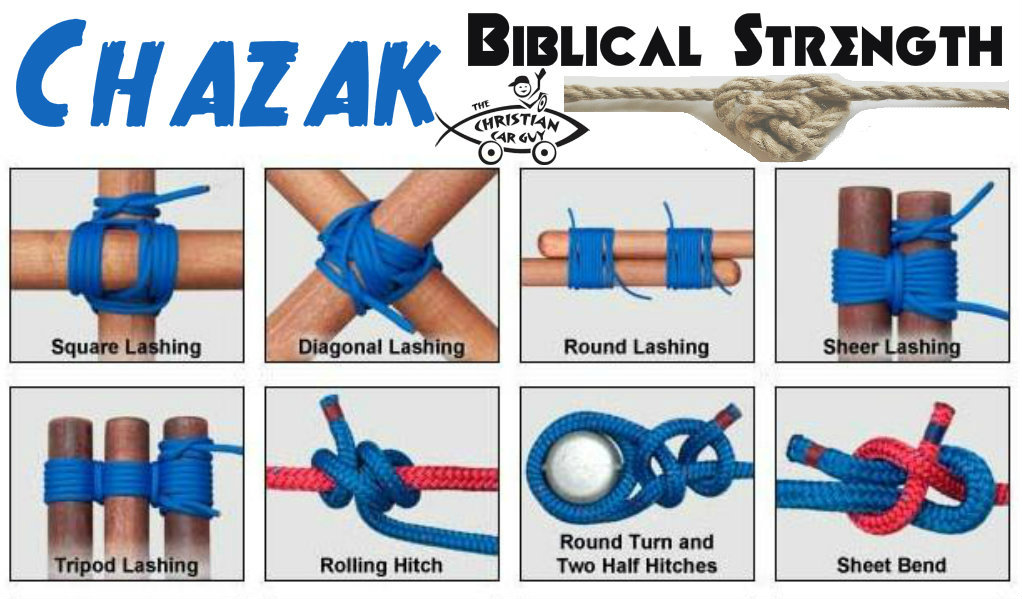 If you were preparing to jump out of an airplane with a parachute the knots used to tie the cords to the canopy were be of great concern, if I was getting in a race car with Mario Andretti the shoulder harness and it's attachment to the frame would also of great concern to me. I believe when we look at Biblical strength its much the same. Joshua was given the charge in Joshua 1:5 "Be strong for you will lead these people to inherit the land I swore to their fathers to give them."
As I turned to that passage this week in my TLV "Tree of Life Version" a Jewish translation they said, "Chazak" be strong… So I looked up the verse in an interlinear at Blue Letter Bible and sure enough that word Chazak means strength and inside the Gesenius' Hebrew-Chaldee Lexicon for that word I believe is a key to Biblical Strength. "TO TIE FAST, TO BIND BONDS STRONGLY".
I began to ponder that and immediately thought of Jacob and his wrestling match in Genesis 32, remember when he would let go of the Man/Angel until He blessed him. Then my mind went to Mary Magdalena in John 20 and Matthew 28, remember she latched onto Jesus feet for all she was worth. Then I found this passage in the Song of Solomon 3:4, (my favorite book by the way) "Hardly had I passed beyond them when I found the one my soul loves. I held him, and I would not let him go, until I brought him to my mother's house the chamber of her that conceived me."
Be Strong be very courageous…Latch onto Jesus with all you have, wrestle in prayer don't let go and your inheritance is on the other side of the Jordan.

Along those same lines, seat belts tie you to the strength of all the engineering that went into your vehicle. If you are not tied in all the crumple zones and air bags, reinforced seat structures, passenger compartment, uni-frame, (I could go on and on) are compromised. Seat belts are the strength of the system if you are not tied in you have forfeited your strength.
Relationships are similar, that's why couples tie the knot, a cord of three strands is not easily broken in proverbs. Get tight with your mechanic, your salesperson, your Church… Chazak- Be Strong be very courageous.