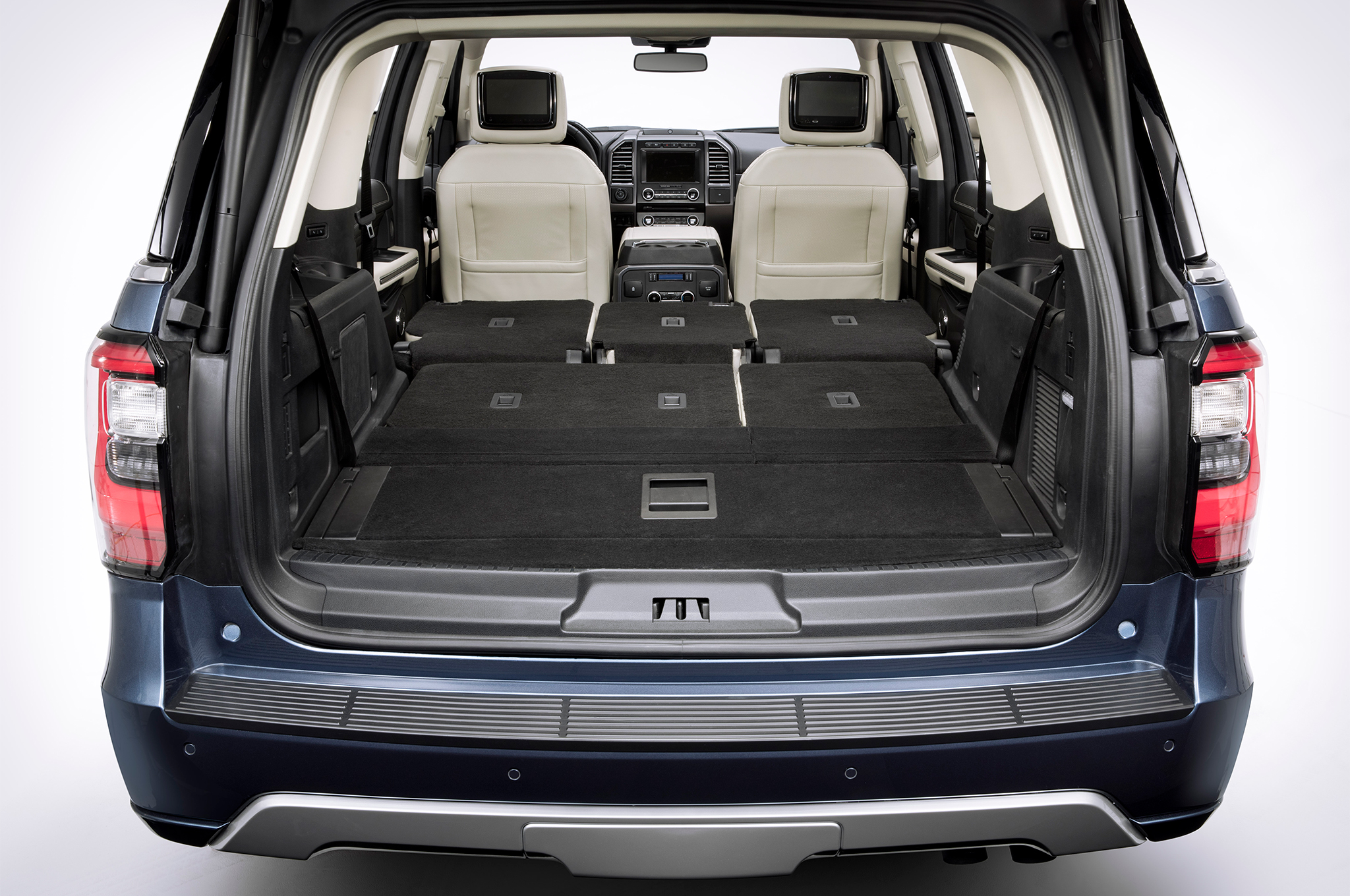 It's like a Swiss Army Knife……on Wheels
August 14, 2017…. Six Innovations on 2018 Ford Expedition Bring Space, Comfort, Stress Relief to Labor Day Family Road Trip, Back-to-School Shuttling
Engineers, designers and product planners at Ford have ensured that last summer getaway with the family and the upcoming "Back-to-School" shuttles can be as carefree and effortless as intended with at least six attributes designed to comfortably haul "stuff" and the precious of cargo of kids.
While "comfort" in most SUVs ends at the driver and passenger section, the all-new Ford Expedition takes function, flexibility and comfort beyond the B-pillar, offering more space and features to keep all occupants engaged, relaxed and in a vacation mindset.
Grabbing hold of the last days of summer in anticipation of a new school year full of kid sport practices, band practices and field trips are on the mind of most families this time of year.  The engineers and designers of the all-new Ford Expedition explored space so families can travel the Earth with roominess, comfort and convenience, even if junior decides to play kettle drums in the elementary band.
The most critical part of achieving the customers' desire for interior openness is knowing how they actually use an SUV.  Ford research found Expedition owners are road ready during Labor Day, the last "summer fling" of family travel as well as a school year full of activities:
More than half of Expedition owners say they want to escape the pressures of everyday life
More than 3 out of 4 Expedition customers say "family-oriented" was a very important purchase reason for their vehicle
Almost 95% of Expedition owners say they take vacations, with nearly 25% taking vacations at least monthly
88% of Expedition owners drive for pleasure, with nearly 70% of owners doing so monthly
Nearly half of Expedition owners go hunting, camping, or fishing
The Expedition team applied customer input to variety of features and spaces, with six elements leading the way:
Tech Tiding the Travel Tantrums
Wi-Fi hotspot supports as many as 10 devices at once, up to 50 feet away from the vehicle; Kids and devices these days? With easy access to games, movies and friends, you'll never find a quieter vehicle due to satisfied offspring.
Dual-headrest rear seat entertainment system provides a next-generation video experience that allows passengers to view their home cable programming on either of two video screens or hand-held devices. "It's that feeling of relief you get on an airplane flight with choices of movies or games," Hoevener said. "Set for takeoff, for rear seat passengers to feel the same way. Play Station never looked so good."
Power for passengers in every row, with four 12-volt power points, six USB chargers and a 110-volt power outlet that lets passengers stay charged and connected.
12-speaker B&O PLAY premium audio system perfected by acoustic engineers for a sound experience even audiophiles will appreciate.
Swiss Army Knife with Wheels: The Next Ford Expedition
The all-new Expedition has a roomy, flexible interior. With seating for up to eight people and their gear, this full-size SUV makes modern family adventures more comfortable during short and long trips alike.
For the seats, occupants are made to feel like they were sitting at the dinner table at home. Extra care was taken to make the measurement of an occupant's hip-to-heel an angle that allowed for good posture, "straight-up" seating to ensure blood flow in the legs and thighs was fluid thus mitigating leg cramping on long road trips.
"What happens in an Expedition is seating that promotes good blood flow in the legs for a better overall experience," Todd Hoevener, Chief Engineer, Expedition, said. "The competitive set has occupants in the second and third rows with knees in the chest – great if you are doing a cannon ball into the lake, painful on a long drive."
Expedition is the first full-size utility to feature a sliding second-row seat with tip-and-slide functionality, providing easy access to the third row without the need to first remove a child safety seat. Once in the third row, even adults will appreciate more legroom and reclining seats.
Expedition's second- and third-row seats can be quickly folded flat with the push of a button to open up a cargo area wide enough to handle 4×8-foot sheets of plywood and other gear, depending on cargo weight and load distribution, even with the liftgate closed. However, one can't enjoy the ride if they can't get inside so the Expedition team sweated the details as to making ingress and egress that much easier.  For example:
–          Skid plates with gripping surfaces on the floor and embedded, sturdy handles resembling those on a rock climbing wall provide those moving into the third row with secure areas to assist in effortlessly getting into the seats.
–          Seat tracks that are lowered vs the competition to mitigate against tripping or having to step over large parallel metal grids where seats slide.
In addition, Ford says Expedition offers the ability to provide a Fido-friendly experience – the second row center section drops down to give the family's best friend a place to lay down and relax right along.
The Ford Expedition is uniquely set up with an independent rear suspension which not only provides the SUV with the smoothest ride in the segment but frees up even more interior space versus the competition.  That inherent space advantage gets maximized by some additional cues, according to Hoevener.
Background on Expedition:
The all-new Expedition is available in XLT, Limited and Platinum series. In addition, an XL version is available for fleet customers, from law enforcement to emergency services. To help customers choose the right amount of interior room for their families, all series are available on the extended-length Expedition MAX.
The all-new Expedition is part of Ford's plan to grow its SUV leadership with five new vehicles for North America in the next four years.
The all-new Expedition arrives this fall. It is built at Kentucky Truck Plant in Louisville, Kentucky.